About Lois...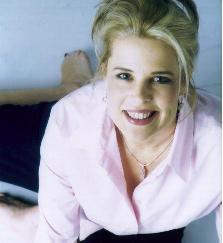 Lois Larimore got her start at an early age with Classical voice lessons and dramatic training later performing in high school and college productions. While attending acting school in Los Angeles Lois sang telegrams to the stars. Appearing on the game show All Star Blitz Lois won $20,000 enabling her to move to Australia to be with her parents who had moved there a few years earlier.
It was in Australia that her career finally started to take off. She performed in over 200 commercials, including spots for Toyota, Hungry Jacks and Fosters Beer. She also appeared in extensive television, magazine, and billboard advertisements. She was known as Australia's "Close-up Girl" as a result of her television appearances with the toothpaste company. Lois had leading parts in many Australian made feature films and co-starred with Elliott Gould, Julian McMahon and Christopher Atkins in Exchange Lifeguards. What followed were features in several Mini-Series such as Shadow of the Cobra with Art Malik and Rachael Ward, The Punisher with Dolph Lungren, Frankie's House, Bangkok Hilton and The Challenge.
Even though Lois was trained as a classical singer she later put out a pop single in the 90's entitled "It's in his Kiss."
Nursing a back injury that she suffered while working as a live presenter for the Warner Brothers Studios Special Effects Show in Australia, Lois used her creativity and show business background to orchestrate an interactive journal of sorts. She began to create, write, and eventually star in her own television production, New Age of Aquarius. As host, creator, writer and producer NAOA was co-produced with Channel 7 Australia and was an instant hit.
A couple of years later, Lois returned to the US and took the concept to market, eventually finding a home with Wisdom Television based in Virginia. Years before the accidental discovery by television networks that interactive TV was a winning ticket, Lois was ahead of her time and leading the world in quality, alternative television production.
Produced and filmed entirely in Canada, Age of E with Lois Larimore was the next evolution in Lois' walk and talk television experience. As Executive Producer, creator and host she co-produced with Wisdom Television, Vision TV Canada, and WinStar Distribution. The series explores modalities, therapies, and practitioners through Lois' unique, interactive format.
Creator and co-executive producer for My Pool TV, a multi-media channel that revolves around the brand of pool or billiards, Lois says, "Pool is a place where people from all walks of life can come together, forget about the real world for awhile and just have a good time." She is the co-host of, "Break N Run" and is gearing up to host the television series, "Celebrity Pool."
---
Lois in an excerpt from her international series, "Age of e"
---
---
Custom Search